The Crane Team offers a full line of Real Estate Services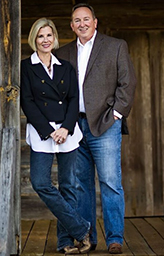 Over the past 25 years, Cindy and Les Crane have fostered an exceptional real estate career with their local market knowledge, professionalism, white-glove service, innovative marketing and open communication. Cindy and Les know their market areas like no other. Both are 3rd generation Atlantans, now living in Jackson County, and have sold over 4,500 homes since 1989.
From success in difficult negotiations, to highly skilled target marketing, to reducing the stress of the transaction for their clients, the Cranes combine their areas of expertise to forge a strong foundation of service to their clients.
Today's Real Estate demands a refined understanding of the property, the area, the values, the prospective buyer and an advanced networking system. Backed with Berkshire Hathaway Georgia Properties' Advanced Marketing Programs, the Cranes have a unique position in the Northern Georgia counties to expose the home both nationally and internationally.
Cindy and Les have been awarded "Top Producers" for Berkshire Hathaway throughout their career, not only locally, but across the Southeast and Nation. While the Sale of the property is always on the forefront, the Cranes relate that the key to their longevity in the Real Estate Market has been the rewarding relationships they have built over the years with their clients and within their communities.